Privacy Policy - Ben S. Digital Change
The provisions below are an integral part of the Terms and Conditions of Ben S. Digital Change (www.bens-digital-change.com).
1. General
In order to provide adequate services, Ben S. Digital Change collects personal data.
Ben S. Digital Change attaches great importance to the protection of personal data and undertakes to comply with the Swiss legal provisions on data protection.
2. Data collected
Ben S. Digital Change may process (collect, store, use) personal data provided by the Customer. In particular, Ben S. Digital Change may process personal identification data (such as name, date of birth, photo, telephone number, postal and e-mail address), business data and financial data (such as account number and other account information).
Ben S. Digital Change records all data during each visit to the Platform. In particular, it records the Internet domain name and/or IP address, the date and time of the visit, and the services consulted.
Ben S. Digital Change is authorised to collect data from banks and other financial institutions used by its customers in the context of currency exchange transactions.
Ben S. Digital Change reserves the right to collect all publicly available information.
3. Data processing
All data collected by Ben S. Digital Change may be used for the following purposes
- to personalise and improve the online experience;
- to improve customer service;
- to process transactions;
- to provide information about its services;
- to send periodic email communications;
- to inform customers about industry news;
- to comply with legal and regulatory obligations;
- to exercise its rights of defence in the event of litigation and judicial or administrative proceedings.
Under no circumstances will the data be sold, exchanged, transferred or provided to other companies.
4. Data storage
The data is stored on Sumsub's servers in Germany.
Ben S. Digital Change, and any other company it subcontracts, stores data in a secure environment for as long as is necessary to provide its service and meet its legal obligations.
Ben S. Digital Change and any subcontractors take all appropriate measures to protect the data and prevent access by third parties.
5. Subcontractors
Ben S. Digital Change is allowed to outsource services or areas of activity (e.g. collection and management of customer data, processing of transaction data) in whole or in part to other companies in Switzerland or abroad. The latter are obliged to comply with applicable data protection regulations.
6. Customer rights
Every customer has the right to know what personal data Ben S. Digital Change has collected, to request the rectification of incorrect data, to request the deletion of data no longer required, and to object to the processing of their data.
7. Contact information
Any questions regarding data protection can be submitted by email to: [email protected] or by post to Ben S. Digital Change, FANIRO SARL, 274 rte de St Julien, 1258 Perly.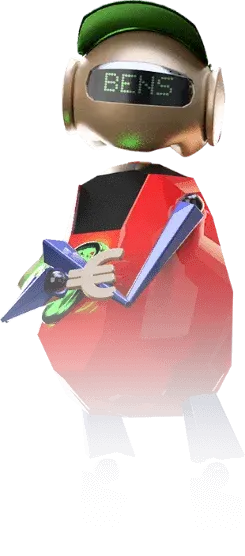 Try Ben S. Digital Change
Do you have a question about our services or our digital platform? Please check out our FAQs. They list all recurring questions.
FAQ
You can't find the answer in our FAQs?
Don't panic! Our team will be glad to answer all your questions by email or by telephone.